Thursday, July 29, 2004


Love me Tender, Love me Sweet

"If I have not love I am nothing. And though I give away everything that I am, and give myself, but do it in pride, not love, it profits me nothing. Love is patient and kind. It is not envious or boastful... It foes not insist on its rights.... It never fails. So faith, hope and love endure, these three; and the greatest of these is love." (I Cor. 13:1-13)

It is easy to speak of Love and loving, when one is in a dimly lit room by themselves. Of course you can easily say that you love this and that when you are deep in thought (by yourself); however, you may not think so tomorrow when you are confronted with a difficult person. Not that I have anything against Love or loving. I just find it easier to Love everyone when I am by myself.


- posted by Julia @ 7:46 PM | | 0 rocks in pond





Sunday, July 25, 2004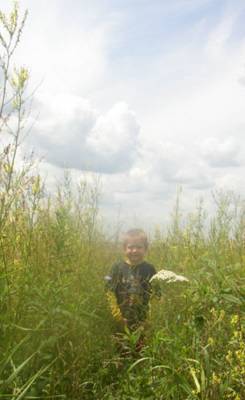 He came out of a fog...that happened to be a smudge on my lense...dang.

- posted by -g @ 8:09 PM | | 0 rocks in pond
Monday, July 19, 2004

Dean, this is yours... now on my ceiling. Not sure if I've done the original justice, but I think it's not bad, for vertical crayon.



- posted by Eva @ 2:06 PM | | 0 rocks in pond





Saturday, July 17, 2004


So long as we are centered on self, we shall be prey to the contradition, the wickedness, and the injustice of men. Our temper brings us into collision with other tempers; our passions clash with those of our neighbors; our wishes are so many tender places open to the shafts of those around; our pride, which is incompatible with our neighbor's, rises like the waves of a stormy sea. Everything arouses, attacks, rebuffs us. We are exposed on all sides by the sensitiveness of passion and the jealousy of pride. No peace is to be looked for within when we are at the mercy of a mass of greedy, insatiable longings, and when we can never satisfy that "me" whihc is so keen and touchy as to whatever concerns it. Hence in our dealings with others we are like a bed-ridden invalid who cannot be touched anywhere without pain. A sickly self-love cannot be touched without screaming; a mere tip of a finger seems to terrify it! Then add to this the roughness of neighbors in their ignorance of self, their disgust at our infirmities (at least as great as ours towards theirs), and you soon have the children of Adam tormenting each other, each embittering the other's life. And this martyrdom of self-love you will find in every nation, every town, every community, every family, often between friends.

The only remedy is to renounce self. If we set self aside and lose sight of it, we shall have nothing to lose, to fear, or to consider. Then we shall find that true peace which is given to men of good will, that is, those who have no will save God's which has become theirs.

"The Royal Way of the Cross" by Francois de Salignac de la Mothe-Fenelon


- posted by Bruce @ 12:08 PM | | 0 rocks in pond





Monday, July 12, 2004


Loving for the sake of God

This quote was read at Feast tonight and I thought it worth sharing:


"Be in perfect unity. Never become angry with one another. Let your eyes be directed toward the kingdom of truth and not toward the world of creation. Love the creatures for the sake of God and not for themselves. You will never become angry or impatient if you love them for the sake of God. Humanity is not perfect. There are imperfections in every human being, and you will always become unhappy if you look toward the people themselves. But if you look toward God, you will love them and be kind to them, for the world of God is the world of perfection and complete mercy. Therefore, do not look at the shortcomings of anybody; see with the sight of forgiveness. The imperfect eye beholds imperfections. The eye that covers faults looks toward the Creator of souls. He created them, trains and provides for them, endows them with capacity and life, sight and hearing; therefore, they are the signs of His grandeur. You must love and be kind to everybody, care for the poor, protect the weak, heal the sick, teach and educate the ignorant."

`Abdu'l-Bahá
- posted by dan @ 9:34 PM | | 0 rocks in pond

This is a guy.

- posted by -g @ 8:22 PM | | 0 rocks in pond
Sunday, July 11, 2004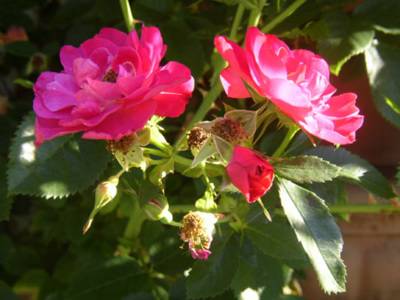 stages and views, blooms and developments



- posted by -g @ 1:21 PM | | 0 rocks in pond




2 Kings 7 is quite worth a read if you wish to hear the rest of the story.

What To Eat What To Eat???
to stave off depression:

Do not be anxious about anything, but in everything, by prayer and petition, with thanksgiving, present your requests to God. And the peace of God, which transcends all understanding, will guard your hearts and your minds in Christ Jesus.
Finally, brothers, whatever is true, whatever is noble, whatever is right, whatever is pure, whatever is lovely, whatever is admirable--if anything is excellent or praiseworthy--think about such things. Whatever you have learned or received or heard from me, or seen in me--put it into practice. And the God of peace will be with you.

Philippians 4: 6-8


- posted by -g @ 1:01 PM | | 0 rocks in pond




You Think You Have it Tough?
Once there was a war

Some time later, Ben-Hadad king of Aram mobilized his entire army and marched up and laid siege to Samaria. There was a great famine in the city; the siege lasted so long that a donkey's head sold for eighty shekels [1] of silver, and a quarter of a cab of seed pods for five shekels.
As the king of Israel was passing by on the wall, a woman cried to him, "Help me, my lord the king!"
The king replied, "If the LORD does not help you, where can I get help for you? From the threshing floor? From the winepress?" Then he asked her, "What's the matter?"
She answered, "This woman said to me, 'Give up your son so we may eat him today, and tomorrow we'll eat my son.' So we cooked my son and ate him. The next day I said to her, 'Give up your son so we may eat him,' but she had hidden him."
When the king heard the woman's words, he tore his robes. As he went along the wall, the people looked, and there, underneath, he had sackcloth on his body. He said, "May God deal with me, be it ever so severely, if the head of Elisha son of Shaphat remains on his shoulders today!"
Now Elisha was sitting in his house, and the elders were sitting with him. The king sent a messenger ahead, but before he arrived, Elisha said to the elders, "Don't you see how this murderer is sending someone to cut off my head? Look, when the messenger comes, shut the door and hold it shut against him. Is not the sound of his master's footsteps behind him?"
While he was still talking to them, the messenger came down to him. And the king said, "This disaster is from the LORD . Why should I wait for the LORD any longer?"

2 Kings 6: 24-33


- posted by -g @ 12:58 PM | | 0 rocks in pond




When God Speaks and Someone Listens
or What to do in a tight spot

Now the king of Aram was at war with Israel. After conferring with his officers, he said, "I will set up my camp in such and such a place."
The man of God sent word to the king of Israel: "Beware of passing that place, because the Arameans are going down there." 1 So the king of Israel checked on the place indicated by the man of God. Time and again Elisha warned the king, so that he was on his guard in such places.
This enraged the king of Aram. He summoned his officers and demanded of them, "Will you not tell me which of us is on the side of the king of Israel?"
"None of us, my lord the king," said one of his officers, "but Elisha, the prophet who is in Israel, tells the king of Israel the very words you speak in your bedroom."
"Go, find out where he is," the king ordered, "so I can send men and capture him." The report came back: "He is in Dothan." Then he sent horses and chariots and a strong force there. They went by night and surrounded the city.
When the servant of the man of God got up and went out early the next morning, an army with horses and chariots had surrounded the city. "Oh, my lord, what shall we do?" the servant asked.
"Don't be afraid," the prophet answered. "Those who are with us are more than those who are with them."
And Elisha prayed, "O LORD , open his eyes so he may see." Then the LORD opened the servant's eyes, and he looked and saw the hills full of horses and chariots of fire all around Elisha.
As the enemy came down toward him, Elisha prayed to the LORD , "Strike these people with blindness." So he struck them with blindness, as Elisha had asked.
Elisha told them, "This is not the road and this is not the city. Follow me, and I will lead you to the man you are looking for." And he led them to Samaria.
After they entered the city, Elisha said, "LORD , open the eyes of these men so they can see." Then the LORD opened their eyes and they looked, and there they were, inside Samaria.
When the king of Israel saw them, he asked Elisha, "Shall I kill them, my father? Shall I kill them?"
"Do not kill them," he answered. "Would you kill men you have captured with your own sword or bow? Set food and water before them so that they may eat and drink and then go back to their master." So he prepared a great feast for them, and after they had finished eating and drinking, he sent them away, and they returned to their master. So the bands from Aram stopped raiding Israel's territory.

2 Kings 6: 8-23


- posted by -g @ 12:44 PM | | 0 rocks in pond





Friday, July 09, 2004


Scholium

"It rains on the just and the unjust alike" is a phrase that can be found in Matt. 5:45. Baron Bowen Charles (1835-94) has added a scholium - an explanatory note (deriving from the Greek word for school) in his commentary which goes like this:

The rain it raineth on the just
And also on the unjust fella:
But chiefly on the just, because
The unjust steals the just's umbrella!

Perspective is a funny thing.

- posted by -g @ 1:07 PM | | 0 rocks in pond





Wednesday, July 07, 2004


"I can't tell if you're serious or not," said the driver.
"I won't know myself until I find out whether life is serious or not," said Trout. "It's dangerous, I know, and it can hurt a lot. That doesn't necessarily mean it's serious, too."

From Breakfast of Champions: or, Goodbye, Blue Monday, by Kurt Vonnegut

- posted by Allie @ 6:30 PM | | 0 rocks in pond




Expecting the world to treat you fairly because you are good is like expecting the bull not to charge because you are a vegetarian.
- Dennis Wholey (1937-)



- posted by -g @ 6:25 PM | | 0 rocks in pond





Tuesday, July 06, 2004




Some days we are, and some days we aren't



- posted by -g @ 9:27 PM | | 0 rocks in pond





Sunday, July 04, 2004


Historic Rememberance
How do you stand when you stand accused?

In 1767, Franklin visited the French court of Louis XV. Recognized for his meritorious achievements in the field of science, Benjamin was treated as an honored guest by the French nation. That same year, the ingenious Philadelphian journeyed to Ireland. Franklin was sympathetic to the cause of the nascent patriot movement, which advocated an end to British occupation. These Irish patriots eyed the brewing conflict between the American colonies and Great Britain with keen interest.

In the American colonies, each passing year intensified the tension between Parliament and its colonial subjects. With every English attempt to impose taxes in the colonies, the colonists grew more defiant and more determined to oppose the "subversive" actions of Parliament. The Townshend Acts levied further taxes but were repealed. The Boston Massacre in 1770, the Boston Tea Party of 1773, and the punitive Intolerable Acts imposed on the city of Boston portended the imminent American conflict.

Serving as a colonial representative in England, Franklin was busy enough. Nevertheless, in 1773, with the colonies in an uproar, Benjamin was forced to answer to some charges leveled against him. The accusations stemmed from some letters written by the royal Governor of Massachusetts, Thomas Hutchinson, that the wise Philadelphian had intercepted through a network of informants and contacts. In his correspondence, the royal governor criticized the Massachusetts Assembly and denounced the colonial view that they deserved the same liberties as English subjects. Franklin passed these letters along to Thomas Cushing, speaker of the Massachusetts Assembly. Cushing, in turn, distributed the letters to Samuel Adams, a leading Massachusetts patriot. Adams, recognizing the letters' potential value to the revolutionary cause, had Hutchinson's harsh words published. Within days, the colonists rallied and called for the immediate dismissal of Governor Hutchinson.

In England, Parliament was outraged that these confidential letters made their way to the New England press. In the eyes of the British government, Benjamin Franklin bore the brunt of the blame. He was ordered to obtain a lawyer and appear before the Lord's Committee of His Majesty's Privy Council for Plantation Affairs. Although Franklin was officially charged with stealing the letters in order to become the next Governor of Massachusetts, the real motive behind the accusations was to punish Benjamin for inciting the colonial independence movement through the distribution of Hutchinson's correspondence. At the age of sixty-eight, Franklin was required to stand an hour and a half in Parliament in the face of all of these ridiculous allegations. To further complicate the situation, various members of Parliament berated the Philadelphian and humiliated him by inviting all of England's most noble ladies to the parliamentary hearing. Franklin remained silent throughout the ordeal and, with the hearing's conclusion, walked out in a calm manner, refusing to present a defense. The day after his appearance, a letter arrived informing Franklin of his dismissal from the post of deputy postmaster general. It was this blow that seemed to affect Franklin most deeply. He had always taken pride in how he conducted postal affairs in the colonies.



- posted by -g @ 7:13 PM | | 0 rocks in pond